Principal Faculty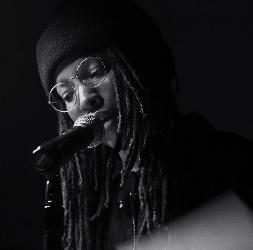 Title
Division Humanities Division
Department

Critical Race and Ethnic Studies

Email
Website
Office Location
Mail Stop Critical Race and Ethnic Studies
Research Interests
20th and 21st century black aesthetics
performance studies
poetry + poetics
black study
transpersonal psyche
mixed-race studies
sound + music studies
black feminist theory
shamanism + near-death experiences
languages + literacies
creative process + play
Biography, Education and Training
fahima ife is a poet, performer, mystic, essayist, and editor who contributes to contemporary studies in black auralities, oralities, and aesthetics. She is associate professor of performance studies and black studies in the department of Critical Race and Ethnic Studies at University of California Santa Cruz. She works in free jazz, ambient, somatic, and house traditions. She studies beauty, blackness, intimacy, and ecologies.
At UCSC, she teaches intentionally ambiguous classes on creative practice and process, self-discipline, music + performance, and ecopoetics. Working in deep collaboration with her students, fahima models friendship in her classes. She encourages her students to become friends with each other and to practice planting seeds of communal, sustainable futures that extend beyond our brief time together in the university. Prior to joining UCSC, she taught at Louisiana State University (2016-2022) after completing her doctorate in Languages, Literacies, and Cultures at the University of Wisconsin-Madison (2012-2016).
They are author of Maroon Choreography (Duke University Press, 2021), the forthcoming poetry collection, Septet for the Luminous Ones (Wesleyan University Press, 2024), and other works in Kenyon Review, Obsidian: Literature & Arts in the African Diaspora, liquid blackness: journal of aesthetics & black studies, ASAP/J, The Academy of American Poets Poem-A-Day, and other places. She has performed at the Metropolitan Museum of Art, the Center for African American Poetry and Poetics (CAAPP), the Museum of the African Diaspora (MoAD), and elsewhere. She is a contributing editor at Tilted House press, and with Ian U Lockaby co-edits the forthcoming journal LUCIUS.
She is gifted at being black and gifted.
"These poems, they are things that I do in the dark, reaching for you, whoever you are, and, are you ready?" — June Jordan
Teaching Interests
ecopoetics + ecoaesthetics
music + performance
black study
black aesthetics
forest (sound)bathing