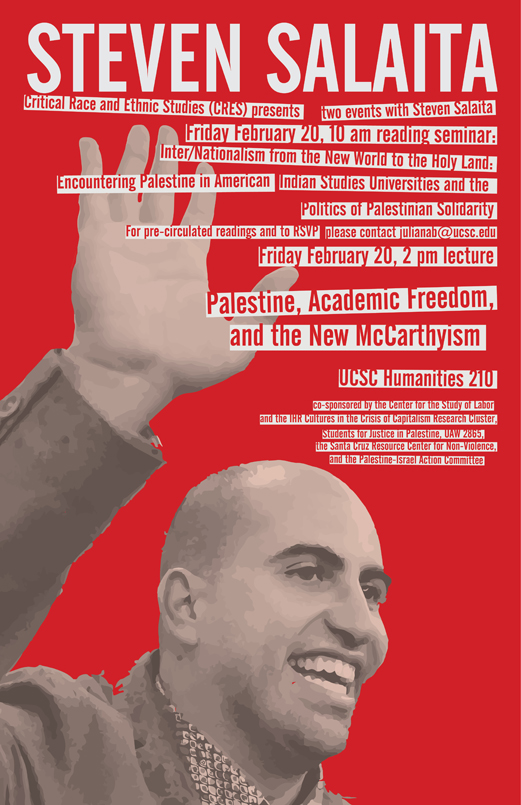 Critical Race and Ethnic Studies (CRES) Presents
A Seminar and a Public Lecture by
Steven Salaita
Friday, February 20, 2015
Humanities 210
READING SEMINAR
10 A.M.
Inter/Nationalism from the New World to the Holy Land: Encountering Palestine in American Indian Studies
To RSVP, Please Contact Juliana Bruno
Readings:
Andrew Bard Epstein, "The Colonialism of the Present: Scholar and Activist Glen Coulthard on the Connection between Indigenous and Anti-Capitalist Struggles," Jacobin Magazine, 13 January 2015.
Waziyatawin, "Malice Enough in Their Hearts and Courage Enough in Ours: Reflections on US Indigenous and Palestinian Experiences under Occupation," Settler Colonial Studies 2:1 (2012): 172-189
Steven Salaita, "Inter/Nationalism from the Holy Land to the New World: Encountering Palestine in American Indian Studies," NAIS 1:2 (2014): 125-144
Mike Krebs and Dana M. Olwan, "'From Jerusalem to the Grant River, Our Struggles are One': Challenging Canadian and Israeli Settler Colonialism," Settler Colonial Studies 2:2 (2012): 138-164.
PUBLIC TALK
2 P.M.
Palestine, Academic Freedom, and the New McCarthyism
Co-Sponsored by the Center for the Study of Labor, the IHR Cultures in the Crisis of Capitalism Research Cluster, Students for Justice in Palestine, UAW 2865, the Santa Cruz Resource Center for Non-Violence, and the Palestine-Israel Action Committee.
For Further Information, Contact Juliana Bruno.